Wednesday, April 4, 2018 / by Hunter Habib
Greetings Neighbors!
We are quickly approaching our end-of-spring and summer selling seasons; are you thinking about taking your home off the market? This time of year, we start seeing home owners pull their homes off the market and you also may be tempted to do the same. Don't do it! Let's look at why you might believe this is a good idea. The point is that there are many reasons why folks believe their home won't sell in the spring and summers seasons in Southwest Florida, but there is only one reason why it will sell – and that reason is in the numbers!
In earlier years, taking your home off the market in the spring and summer months did indeed seem like a viable option that made perfect sense. Back when the internet did not exist, the Southwest Florida real estate market did show more sales in the winter season than in the summer months. This made sense because folks were here during the winter months. They could look at homes with their agents, make a purchasing decision, and close in time for their departure – ready for next season! Once those winter visitors and residents were gone, little could be done to efficiently show them new homes on the market during the "off" season. Certainly, this did not seem unusual given the set of circumstances and the current technology (or lack thereof!).
So, what's changed? First, the internet created a whole new set of rules when it came to consumers and real estate. Second, it also created new communication tools that allow agents to keep in touch and stay in front of potential buyers all year long! For the consumer, they now have access to information that could never be obtained before. Now potential buyers can look at homes for sale from anywhere in the world, as well as market data! We now also have proven numbers to show that most home buyers start their search via the internet, as well as internet use as it pertains to real estate. Buyers can also speak with their real estate agents anytime, anywhere!
What else has changed? Specifically, in the Southwest Florida real estate market over the last several years, historical sales numbers have steadily been migrating their way to a non-seasonal market. In the distant past, we've seen sales historically dwindle significantly in the market during the summer months; now, we are no longer seeing a large difference as we once did. To further make this point, I'd like to share some of our team's, sales numbers. As you can see, our team's sales from 2017 are steady all year long! And, we sold more properties in second quarter than first quarter, which is the period we call "season."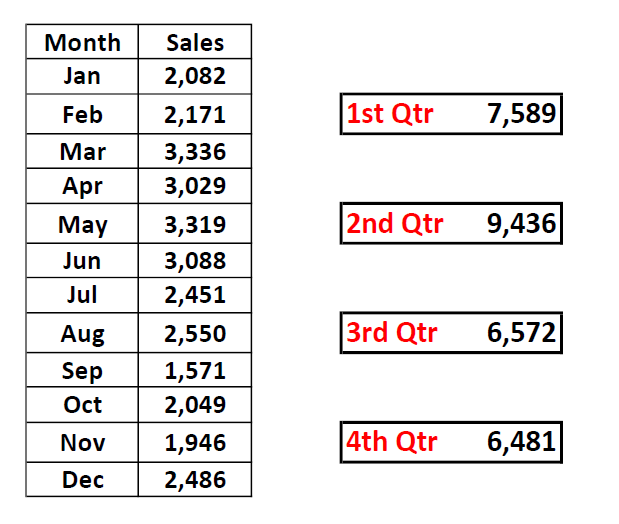 What does all of this mean? It means that your home can absolutely sell in the spring and summer (and fall for that matter) months in Southwest Florida. If your agent is telling you that it's now time to take your home off the market, you should start your search for a new agent. The numbers clearly show us that sales are year-round. With the right agent on your side, you can get your home sold during the spring and summer months. Keep your home on the market, price it right, and stick with agent representation that has your best interest at heart and not a summer vacation!
What are your plans for buying or selling this spring and summer? Our team can help you make it happen with the best possible outcome! Here is a handy list of unique sales tools we provide our buying and selling clients. Whether buying or selling, our tools are PROVEN to help you get the most from your transaction!