Tuesday, October 23, 2018 / by Hunter Habib
Market Intro: October 2018
By D. Michael Burke


Greetings, Neighbors!

It's hard to believe we are at the jumping off point heading into the autumn selling and buying season in Southwest Florida. And, before you know it, January will be here as well! With January comes the flooding of the market of existing home new listings as well. If you're ready to sell now, don't wait until January, when the competition will be fierce, to list your home. List now to avoid the competition and to take advantage of those autumn buyers who are serious. Typically, Autumn buyers are looking to get into a home prior to the holidays or ready to move in soon thereafter, so now is the time to grab their attention!



Speaking of fierce competition, new construction homes continue to be a viable option for buyers. Currently, there are many new communities with great floorplan options and superior amenities! But, if you're looking at new construction, make sure you have your real estate agent with you when looking at homes. We cannot stress this important piece of advice enough! Buyers do not realize this, but upgrades, pricing and many other attributes are negotiable in a new construction home transaction. Without your real estate agent involved, you could be leaving money on the table. Many buyers just assume that the builder's on-site agent will tell you everything you need to know and your own real estate agent is not needed. This could not be further from the truth. The on-site agent works for the builder, not the buyer. Have you ever heard the expression "you don't know what you don't know?" That expression applies here! However, you can avoid not knowing by having your own real estate agent accompany you and negotiate on your behalf. In a new construction sale, everything is negotiable! And here is the best part – having your own real estate agent in a new construction sale will not cost you a penny – the builder pays your agent's commission! I must repeat that… the builder pays your agent's commission! It costs you nothing to have someone working on your behalf. So, why not take advantage of this and have your agent accompany you to see the models and help you negotiate the best deal you can at the builder's cost. This is a win-win for the buyer!
On another topic, as we approach the end of the year, our team performs an analysis on absorption rates. An analysis of absorption rates can give us some clues about future market behavior. Let's start with a definition of absorption rates. The absorption rate is the number of months it would take to sell currently listed homes in the market. That sounds simple and the math is simple for the most part. However, it's an important concept, and it can give us clues specifically about home prices and sales activity going forward.


How is it calculated? Let's use a fictional example to illustrate how absorption rate is calculated using a 6-month baseline:


1.
In a large urban area, the previous six months' report of home sales showed 38,235 homes sold.
2.
So, 38,235 homes divided by 6 months yields 6373 homes sold per month.
3.
There are currently 28,145 homes listed for sale in this market. We divide this number by 6373, and we find that there is currently a 4.42-month supply of homes for sale in this market. At the current rate, with none withdrawn and none added, it would take 4.42 months to sell them all.
So, now that we understand the calculation, what can we ascertain by looking at the absorption rate history for August 2017 to August 2018? Observe the chart below…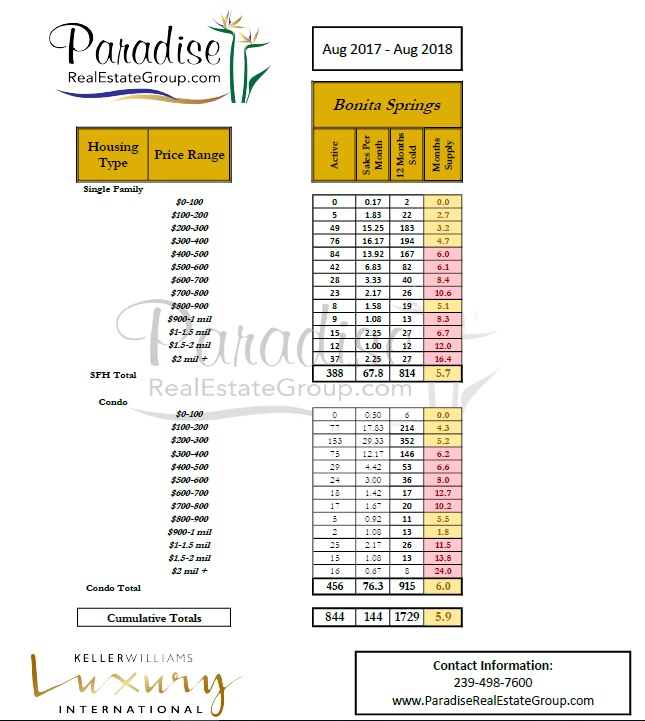 So, if we look at this chart above, our cumulative total for this year's history is 5.9 months of inventory, which is a stable number. Anything between 4-6 months is considered a normal and balanced market. Remember Hurricane Irma in September 2017? (How could we forget, right?) Well, even with that weather event, the market still balanced out. The bottom line is that buyers are still very interested in buying in Southwest Florida and while we had some inventory issues due to overpricing and limited availability is some specific price segments in 2018, at the end of the day, our real estate market is still balanced and outperforming most national markets as well. If you would like to understand absorption rates more closely, please reach out to our team, The Paradise Real Estate Group, so we can assist you with understanding these specific numbers within your community.
What are your plans for buying or selling this autumn or winter? Our team can help you make it happen with the best possible outcome! Here is a handy list of unique sales tools we provide our buying and selling clients. Whether buying or selling, our tools are PROVEN to help you get the most from your transaction!