Tuesday, May 7, 2019 / by Hunter Habib
BONITA SPRINGS, Florida | May 3, 2019 – New construction communities in Estero and Bonita Springs are sprouting up like weeds overnight. In previous years, a main focal point when buying real estate in Southwest Florida was being within a mile or two of the beaches. "Location, Location, Location" is what this is most commonly referred to in the industry, as the resale value on a beach-centric home is increasingly larger than one beyond the sights of the shoreline. Although the resale value of a home is top priority to a buyer when making a purchase, it is not the only consideration. Agents in the SWFL market are finding that buyers are looking towards new construction communities more now than before as homes near the beach do not offer the same rich amenities and square footage at the same price point.
According to the Bonita Springs-Estero REALTORS® (B.E.R.) Media Committee, with reporting from the SWFLAMLS, year-to-date sales in new construction, pre-construction and under construction homes have increased 29.2% compared to this time last year. Consumers are reminded, if interested in new construction, always engage a REALTOR® from start to finish in order to assist in price negotiations, selecting the right lot and upgrades for future resale value.
Besides being able to purchase more home for the same dollar amount and living in new construction, buyers are migrating away from the beach because of the evolving community that is now the Village of Estero. Over the last decade, there has been tremendous growth in the Estero area, from the expansion of Florida Gulf Coast University (FGCU) to the migration of Hertz Global Headquarters. This alone, along with the opening of many new businesses, has brought more attention to Estero, therefore pushing for the need to build more homes. According to the Village of Estero website, there has been a 23% increase in households from 2014-2019. In layman's terms, a large influx of people are deciding to make Estero their permanent residence. In addition to this, the average age of residents is decreasing, making Estero more desirable for families and working professionals.
When deciding where to purchase a new home, Estero is becoming more desirable for many reasons, but one that is critically important to families with young children is the ability to attend Estero schools when residing in the town. Thanks to the Estero Education Initiative, families living in Estero now have priority when choosing a school for their children to attend. Nick Batos, former Mayor of Estero and Councilman, states that "The Village of Estero has entered into a public private partnership agreement with Lee County Schools, serving the Estero students to augment and improve the educational opportunities offered to the students. This initiative will allow for additional educational, recreational and aesthetic experiences for our students while at the same time making Estero even more attractive and desirable for students, residents and business alike." This creates a huge incentive for those considering the move to Estero as the rest of Lee County does not have priority over their school of choice.
Although the new construction market is an option, the resale market is still on an upturn compared to this time last year. Pending sales showed an increase of 9% from March 2018 as well as a 6.5% increase in new listings coming on the market. "Based on current market conditions, it appears that our REALTOR® members will have a busy summer" remarks B.E.R. CEO, Meighan Harris.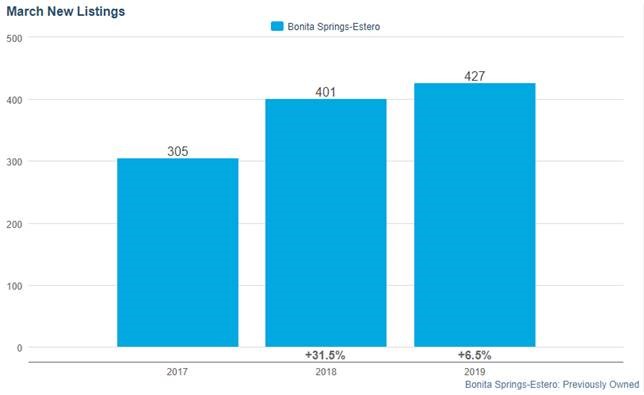 The Bonita Springs-Estero REALTORS® March 2019 Report shows these overall findings for both single-family homes and condominiums combined.
| | | | |
| --- | --- | --- | --- |
| | Month over Month | Month over Month | |
| | March 2018 | March 2019 | % Change |
| New Listings | 426 | 458 | 7.50% |
| Pending Listings | 422 | 459 | 8.80% |
| Closed Listings | 347 | 313 | -9.80% |
| Median Closed Price | $296,415 | $299,560 | 1.10% |
| Average Days on Market | 54 | 65 | 20.40% |
| | | | |
| | 12-Month Ending | 12-Month Ending | |
| | March 2018 | March 2019 | % Change |
| New Listings | 3.543 | 4,926 | 39% |
| Pending Listings | 3,065 | 3,238 | 5.60% |
| Closed Listings | 3,015 | 3,182 | 5.50% |
| Median Closed Price | $291,000 | $297,500 | 2.20% |
| Average Days on Market | 62 | 60 | -3.20% |
| | | | |
| *Current Active Listings | 1,857 | | |
| *Current Avg. Month's Supply | 7.6 | | |
---