Thursday, September 27, 2018 / by Hunter Habib
The top is in for existing-home sales, which make up 90% of transactions in the US, according to economists at Bank of America Merrill Lynch.
· They cite worsening affordability, higher mortgage rates, and price cuts as reasons sales are unlikely to bounce back after peaking in November.
· They no longer expect existing-home sales to contribute to the economy's growth.
The largest segment of the housing market has peaked and will no longer contribute to the US economy's growth, according to US economists at Bank of America Merrill Lynch.
"We are calling it," the team led by Michelle Meyer said in a research note on Friday. "Existing home sales have peaked."
Sales of existing US homes make up 90% of all transactions and recovered faster than the market for new homes after the housing crisis a decade ago. But sales have failed to top the level of 5.72 million homes reached in November. To Meyer, that was most likely the high-water mark.
"The peak in existing home sales can largely be explained by the decline in affordability," Meyer said.
She pointed to the fact that housing prices were close to levels last seen at the peak of the most recent bubble. Also, mortgage rates are on the rise, and the Federal Reserve is expected to raise its benchmark interest rate this week for the eighth time since late 2015.
Meyer also said homeowners were cutting prices more aggressively to attract buyers. For example, the real-estate company Zillow is seeing the most price reductions since 2013. And during the week after Labor Day, sellers in New York City made the biggest cuts to their asking prices since 2009, according to StreetEasy.
"The outcome is that the housing market is no longer a tailwind for the economy but has yet to become a headwind," Meyer said. "Call it neutral."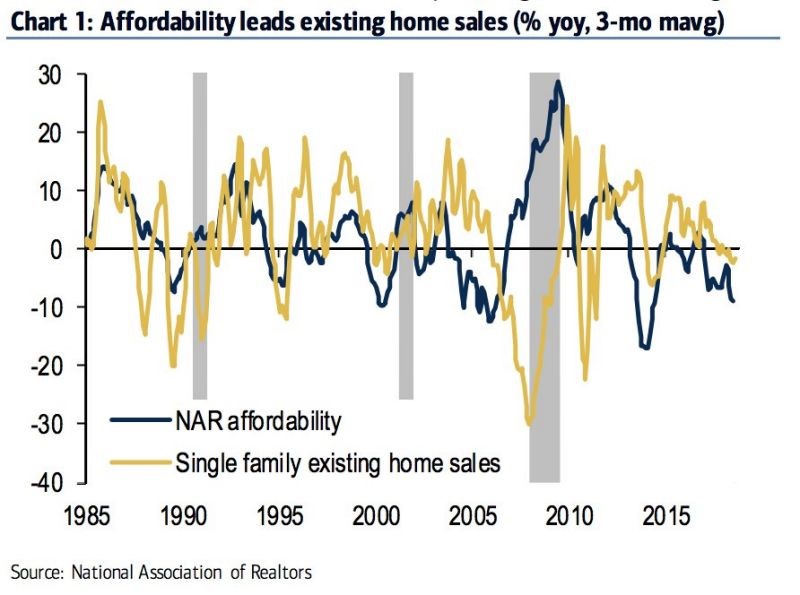 Residential investment, which includes construction and brokers' fees, fell in the May-June period for a third quarter out of four, though this weakness was partly offset by a stronger commercial real-estate market.
Another segment of the market that's still hanging in there is the one for new homes. Sales haven't grown as quickly as the market for existing homes because after the financial crisis lenders with distressed properties were more eager to sell, Meyer said. Homebuilders, on the other hand, waited for signs the market was improving before starting construction.
Meyer expects them to keep this approach going forward. With demand hotter than housing inventory in many big cities, it's one that could pay off, even if slowly, for prospective homeowners and for the economy.
"There is still room for single family construction to expand, but it is likely to remain slow given challenges finding labor and dislocations in the market," Meyer said.
Spencer Platt/Getty